About Me
My story is simple: I'm a journalist who writes books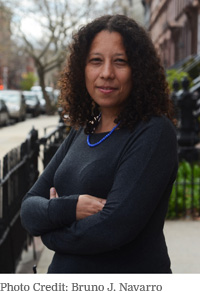 For this I have been lucky to have won awards and gotten great reviews. More important to me is the feedback I get from readers. Follow me on twitter: @iamCoraDaniels or email me: info@coradaniels.com I like to write things that challenge people's expectations and make them think while they laugh along the way. The latest is Impolite Conversations, a book of essays that I wrote with one of my oldest friends, John L. Jackson, Jr. (Old as in we've been friends since High School not old as in he's old. Well…maybe.) We seem to make a pretty good team. (Check out the books page for reviews or to just buy it yourself.) For a much more official bio complete with the magazines I've worked for and other books I've written please read below.
Cora Daniels is an award-winning journalist and author. She was a long-time staff writer at Fortune, an editor at Working Mother magazine and at Consumer Reports magazine, and currently contributes regularly to Essence magazine. Her work has also appeared in The New York Times Magazine, Fast Company magazine, Men's Fitness, O: The Oprah Magazine and USA Today, among others. As an author, Cora has been called "dynamic", "perceptive", and "a powerful voice."
Her latest work is Impolite Conversations: on RACE, POLITICS, SEX, MONEY, and RELIGION (Simon & Schuster, 2014). In it, she teamed up with cultural anthropologist, John L. Jackson, Jr., to put forth a series of candid essays on America's top hot-button issues. These opinions may be widely held in private but are rarely heard in public.
Cora's last book, GHETTONATION: A Journey Into the Land of Bling and Home of the Shameless received critical acclaim and national press attention and continues to stir up debate. Her first book, BLACK POWER, INC was dubbed "thought provoking" by The Washington Post and a "must read" by Black Issues Book Review.
A sought after expert on diversity and business issues she has served as a commentator on ABC News, CNN, CNBC, BET, NPR, and "The Charlie Rose Show". In 2002, she spearheaded Fortune's first ever search for the 50 most powerful Black executives in America. In 2005, her award winning Fortune cover story, The Bravest Generation, about the original Black corporate pioneers, created national attention for this overlooked part of civil rights history.
Cora is a native New Yorker and lives in Brooklyn with her husband and two children. She graduated from Yale University with a B.A. in History and earned an M.S. from Columbia University Graduate School of Journalism. She is also currently on the journalism faculty of New York University.