Impolite Conversations
On Race, Politic, Sex, Money and Religion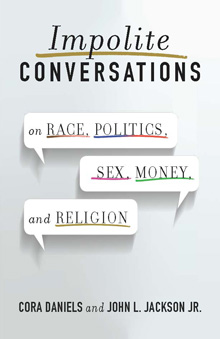 Order at Amazon   Order at Barnes & Noble
There is no conversation more boring than the one where everybody agrees.  – Michel de Montaigne
It has often been said that one shouldn't talk about religion or politics, in certain settings, for fear of alienation or offense. But what happens when not only do you talk about religion and politics; but you add sex, money and race to the discussion? You get an honest, informative and unflinching conversation that can serve as part wake-up call, and part call-to-action. This is what you can expect to find in IMPOLITE CONVERSATIONS: On Race, Politics, Sex, Money and Religion by Cora Daniels and John L. Jackson Jr. (Atria Books; On sale: September 30, 2014; 978-1-4767-3911-3; $25.00 U.S./$28.99 Can.).
Children have the luxury of speaking without a filter: that lady is old; mommy is fatter than daddy; why do black people talk so loud?; and while these statements may be cringe-worthy to their horrified parents, there is a certain admirable quality, and freedom, in saying exactly what is on your mind…regardless of the consequence. In IMPOLITE CONVERSATIONS, two lifelong friends: journalist Cora Daniels and cultural anthropologist John L. Jackson Jr. have put together a collection of essays that challenge readers to be fearless in discussing openly those things we only say, in whispered tones, in private. In an age where email, text, and social media outlets are the preferred methods of communication, the authors invite readers to come from behind the keyboards, and have those provocative discussions that can be instrumental in changing cultural narratives.
In alternating essays, Daniels and Jackson share their candid views on the most hot-button topics of our day. The results are often surprising and humorous, just like the best kids talk. While the tone of the book is no-holds-barred and unapologetic, the authors have taken great care to provide readers with well-researched and documented facts and statistics and interviews to help bolster their viewpoints. The goal is not to shout until readers agree but to pull everyone out of their comfort zone. Some of the issues they address include:
RACE:
Why using the "N Word" euphemism is just as bad as uttering the slur itself.
Why it is that we only tend to talk about race with people who look like us.
POLITICS:
Was the election of Barack Obama a bad thing for Black America? Does Obama makes whites whiter?
If Americans took parenting seriously we would have a working mother's platform.
SEX:
Why are we afraid to raise daughters who enjoy sex?
Does gay imagery have a lasting impact on the psyche of young black boys; and are certain racial and ethnic groups more conservative that others when it comes to homosexuality?
MONEY:
Is American economic mobility possible for all members of society?
Is college still a good investment when the value of the degree is becoming increasingly worthless?
RELIGION:
What role does the black church play in the high rate of single African-American women?
The similarities between organized religion and social media.
IMPOLITE CONVERSATIONS is like having a front row seat in a room where critical thinkers gather to debate and share their most impassioned opinions. It challenges the reader to engage issues that they might not typically talk about and hold meaningful conversations across race, class, and gender lines. By the end, regardless if readers agree or disagree with the authors, it is a book that they will want to share at their next dinner party, around proverbial water coolers, on neighborhood stoops, or wherever discussions should get lively.
Watch the Impolite Conversations Web Series
About the authors
Cora Daniels is an award-winning journalist and the author of two books, Ghettonation and Black Power Inc.. She was a staff writer for Fortune magazine for almost a decade and currently is a contributing writer for Essence. Her work has also been published in The New York Times Magazine, Fast Company magazine, O: The Oprah Magazine, and Men's Fitness, among others.
John L. Jackson Jr., a cultural anthropologist and filmmaker, is Dean of the School of Social Policy and Practice at the University of Pennsylvania. At the age of thirty-four, he was named the first-ever Richard Perry University Professor at the University of Pennsylvania, and has served as a visiting professor at Harvard Law School. He is the author of four books: Harlemworld, a Publishers Weekly Notable Nonfiction Book; Real Black; Racial Paranoia; and Thin Description.
IMPOLITE CONVERSATIONS
On Race, Politics, Sex, Money and Religion
Cora Daniels and John L. Jackson Jr.
Atria Books
On sale: September 30, 2014
978-1-4767-3911-3; $25.00 U.S./$28.99 Can.
For more information, contact:
Yona Deshommes
Senior Publicity Manager
212.698.7566
Yona.Deshommes@SimonandSchuster.com