Black Power Inc.
The new voice of success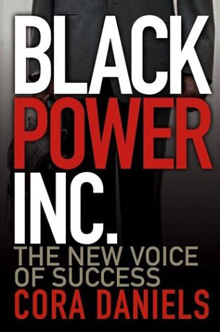 Order at Amazon   Order at Barnes & Noble
Today's young Black professionals have attained the sort of education, connections, and experience that those before them could only have imagined. They have more potential and more opportunities than any generation before them. As they rise in the ranks of the corporate elite, and enter circles of power previously closed to them, they are changing the way corporate America relates to Black America—and vise-versa. In the context of the struggle for equal rights, how has this new generation changed the corporate world? And how has their success changed their views on race?
In Black Power Inc., Fortune magazine writer Cora Daniels sheds light on these questions and offers a brutally honest and personal look at the corporate world from the perspective of young Black executives around the country.
She explores the contrast between the first generation of Black professionals, who chose not to make an issue of race, and today's generation. Rather than deny their race in order to be seen as equal, the new Black business elite embrace race as a critical component of their professional identity. In lieu of downplaying race as an issue, they use their race to build a legacy for the next generation of Black leaders. They view their success, in part, as a result of their refusal to check their Blackness at the door.
The new Black elite see the business world as the nexus of American power, rather than Capitol Hill. Instead of seeking to effect change through government or the church, this generation is marching through freshly opened doors in the corporate world or building businesses themselves. Rather than fight the power, this new generation seeks to take the power for themselves—and use that power to uplift their entire race.
Through scores of interviews and personal stories, Daniels—a member of this young generation—tracks the shift of the equal rights movement from the streets to the executive suite, examining the motivation and ideology that drives the Black executives who are reshaping corporate America from the top down. Black Power Inc. delves into the consequences of this shift in attitudes, revealing what it will mean for business, Black America, and the nation.